Altaro VM Backup v9 - Feature overview
Hornetsecurity recently introduced version 9 of their popular VM Backup software. In this new version Hornetsecurity introduces Write-Once Read-Many (WORM) storage, also known as immutable storage, as an additional layer of security for safeguarding backups against ransomware and attackers. Other features include concurrent data clean-up operations, support for VMware vSphere and vCenter v8 hypervisors, and improvements to the VM Backup management console performance.
Immutable backup in detail
Immutable storage locations, allow data to be written only once while allowing for unlimited reads or access. This makes them an ideal solution for safeguarding backups against ransomware and attackers, as the data cannot be altered or deleted once written, ensuring that the data remains consistent and secure for future use.
It is important to note that the Offsite Retention period will automatically match the Immutable period, and VMs assigned to one immutable offsite backup location can also be assigned to another non-immutable offsite location. The retention policy of both immutable and non-immutable offsite locations will be the same and match the immutable days to protect period.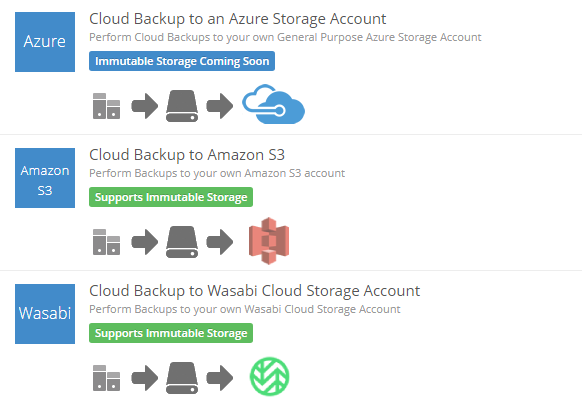 Immutable backup locations provide an additional layer of security as backup data stored in these locations cannot be manually deleted via VM Backup or cloud provider console for the duration of the Immutable policy, providing peace of mind that the data remains unaltered and cannot be tampered with.
However, it is worth noting that additional costs may be incurred when taking immutable backups as they require extra calls to maintain the immutable status of the backup data.
New Backup repository
Hornetsecurity VM Backup Version 9.0 is a major upgrade from V8 and brings new backup system that is incompatible with older versions so you'll keep your settings when upgrading from v8 but you'll need to take a fresh backup. A brand new backup repository has been created for onsite, offsite, and cloud storage accounts. The deduplicated repository has been rebuilt from the ground up to be highly scalable, robust, and make optimum use of disk space.
Other features in this version include concurrent data clean-up operations (retention) that can run in parallel with any other onsite and offsite backups, as well as restore operations. The Local Management Console will no longer enter maintenance mode when running retention clean-up on offsite backup locations. Backup Health Monitor can now run silently in the background in parallel and without interrupting any ongoing continuous backup operations (CDP), scheduled backup and restore operations. This allows users to constantly scan for any data integrity issues and be alerted when required.
Support for VMware v8
Hornetsecurity VM Backup Version 9.0 also adds support for VMware vSphere and vCenter v8 hypervisors, and for VMs that are configured with the Fault Tolerance feature on VMware hosts. It also supports installing the VM Backup management console on the Windows 11 operating system. Altaro also improved the VM Backup management console performance when managing large-scale infrastructure setups. It drops support for VMware vSphere and vCenter v5.0 and 5.1 and changes TCP/IP Ports.
Feature changes and local console
The upgrade wizard, now runs automatically when V9 is first installed and launched, providing all necessary information to the user allowing option to migrate all configuration and settings from VM Backup v8 or to start a fresh new configuration. The Offsite Backup Server v9 can run concurrently with the Altaro Offsite Server v8. The Operation History can now be exported via REST API, and the version adds support for AP-Southeast-2 region on Wasabi Cloud Storage.
Local management console now enables multiple offsite copy locations by default, while the Backup Health Monitor is enabled by default. The integrated Offsite Backup Server (formerly AOS) service and deduplication service now run as a single service, making more efficient usage of available memory. The version reduces the number of API calls to Amazon S3 and Wasabi object storage, making the backup operations to these locations more cost-efficient.
---
Summary
In its newest version of VM Backup Hornetsecurity brings some cool features:
Protection against ransomware

Database improvements

Improved services

Retention, backup and restore run in parallel

REST API operations
Upgrading from v8 to v9
Keep in mind that new backup repository breaks compatibility with previous version. Version 8 keys will not work in Version 9 but with valid SMA you are entitled to free v9 key. It also requires Microsoft .NET4.8. Old backups are restorable only with v8. It uses additional TCP ports. Therefore before upgrading make sure you read new requirements and don't rush into it until you are ready.