N-able Take Control
Fast and powerful remote control software.
Take Control and Resolve Issues Efficiently with Lightning-Fast Remote Support.
Get a quick demo
of N-able Take Control Plus!
Remote support software designed to help your IT business succeed—at an affordable price. N-able Take Control is built to help IT service providers support more customers via fast, intuitive remote support to nearly any platform. Take Control provides access to deep diagnostics from one dashboard while simultaneously connecting to devices typically in seconds. It's designed to fit your technicians' workflows—and your company's budget.
---
BENEFITS:
Support users and machines from single dashboard
Brand key user-facing components with your logo and content
Help customers and users demonstrate compliance
Resolve support issues effectively with powerful diagnostic tools
Expand your base of monitored end devices with simple agent download
Customize access for each of your technicians
Support the most common end device operating systems
Make it simple for users in need to request support
Increase customer trust with Take Control's safe data management features
---
What N-able Take Control customers say
Love the product. It always works and the support has been great!
Brandon Byron
CEO, Bainbridge Technology Solutions
I like that with Take Control Plus, we can have our clients go to our website and click "Get Support Now" and just click on MSP Anywhere without having to walk them through 20 prompts.
Steve Anderson
CEO, Economic Computers
---
Crush your task list with fast, powerful remote support
When customers have an issue, they want it resolved fast. Your technicians don't have time to wait for their remote support tools to connect. Take Control is engineered to provide both fast connection speeds and sharp diagnostic tools, helping technicians resolve issues quickly and move on with their day.
Make Take Control yours with robust remote support customization
While Take Control is built to let you hit the ground running, you can also configure it to fit your needs. For starters, the system supports custom branding to help keep your business top-of-mind with customers. Additionally, Take Control is built to streamline your support operation by allowing you to configure workflows and customize reports to suit your business.
Earn your customers' trust with safe remote support
Take Control is designed to help keep user data safe via advanced encryption protocols, support for two-factor authentication and multilevel permissions, and optional automatic PIN and clipboard deletion after sessions. In short, Take Control is built to help you gain the trust of your customers.
---
N-ABLE TAKE CONTROL FEATURES:
Session recording
Session notes and search
Missed session notifications
Color and quality adjustment for low-bandwidth users
Fast video streaming
Automatic keyboard translation mapping
Block remote keyboard and mouse
Session transfer and multisession handling
Technician screen sharing
View-only (monitor-only) sessions
Switch presenter role
Basic system info (OS, CPU, RAM Network, Disc space)
Pre-session chat
Direct session links through email
Quick connect from startcontrol.com and 6-digit PIN
Expected wait-time information
Live chat or VoIP calling
Post-session surveys
Run local batch script (system shell session)
System CMD shell
Force reboot and reconnect—in safe mode if necessary
Port and RDP forwarding
Prevent auto-sleep, auto-lock, and inactivity disconnects
Remote printing for Mac® and Windows® on any printer
System health (temps, system info)
Video Controller and AV active
---
A REMOTE SUPPORT TOOL BUILT FOR
SPEED, POWER, AND SECURITY
Request free 30 days trial!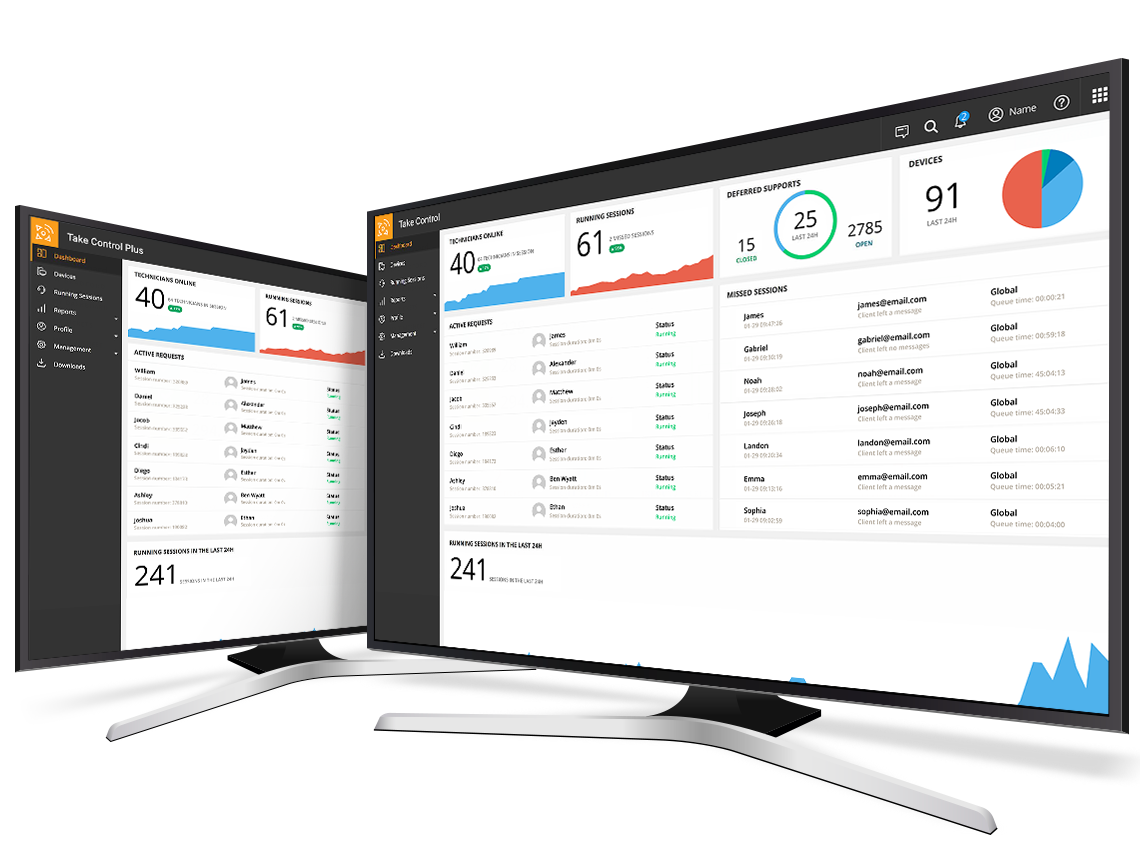 N-able Take Control: Product Overview with Carlos Ataide
Datum objave: 11.06.2021 13:27:11