N-able MSP Manager
Your Ticket to Managed IT Services
The Shortest Journey from Tickets to Billing to Growing your IT Service Business.
30 days free trial - try MSP Manager!
N-able® RMM & MSP Manager combine to form an integrated solution to help provide everything small- and midsized MSPs need to deliver prompt, proactive service; allocate resources effectively; and efficiently bill customers with reliable, defensible invoices for faster approval—all from a single pane of glass. Easy-to-use remote monitoring and management as well as ticketing, reporting, and billing are designed for end-to-end customer service in one integrated solution.
---
BENEFITS:
Help increase your team's efficiency
Safely access work & information from anywhere
Tools and billing to fit your current business model
Grow your business with agility, visibility, & transparency
Ticketing and time tracking are built with technician efficiency in mind
Ensure that MSP and end customer data is safe
MSP Manager supports multiple billing models and integrates with QuickBooks® Online/Desktop & Xero® for faster, more accurate billing
RMM & MSPM auto-sync to create a single, centralized data repository, accessible from both platforms
Reduce the time it takes to deliver an effective response
---
Better service from anywhere
MSP Manager and RMM run on the worldwide network of Microsoft Azure, so you can access network, device, and ticket information from anywhere. Utilize the full power of integrated MSPM and RMM wherever you are. Take MSP Manager on the road with the MSP Manager mobile app. From the app, techs can open and work tickets, track their time, view customer information and ticket histories, access device details and passwords, and much more. And you can even set up push notifications to immediately alert technicians when a ticket is assigned to them or an issue status changes.
Simplify your billing
How long does your staff spend invoicing and billing? A few hours? Days even? MSP Manager helps cut down your billing time. It tracks every billable moment, lets you apply the correct contract rates and, when the time comes, makes it simple to batch export invoices directly to your accounting software.
Flexibility and Scalability
To take your business to the next level, you need to see where you are—so you can see where you are going. Integration-based features with MSP Manager and RMM are built to give you greater visibility for strategic decision-making to help you grow.
---
WHAT MSP MANAGER CUSTOMERS SAY
MSP Manager makes creating and updating tickets easy. Automation has simplified our billing process.
SMBIT Support
CEO, SMBIT
---
FEATURES
STORE ALL CUSTOMER KNOWLEDGE
Knowledge management: You can store passwords, procedures, serial numbers, expiration dates, servers, networks, and asset information on each customer's account.
Customizable and searchable knowledge articles: Solve problems and answer your most pressing questions before you even open a ticket.
Contact information: Store information for the contact person at each client location, including name, title, email, and phone number. You can also assign specific engineers to individual customers, helping to ensure that each ticket request is routed to the appropriate technician.
Locations: Enter one or more locations for each client. This can then be used to generate a map or directions, making it easy for your technicians to travel to on-site visits using their smartphones.
CUSTOMIZE BILLING FOR SPECIFIC CUSTOMERS
Service items: Set up and associate service items for each of your customers, allowing the system to automatically calculate invoices based on the correct rates. You can break each service item down by flat fee, hourly, or project based rates, and you can also set up monthly or hourly retainer contracts.
Flexible rates: Enter hourly rates as needed whenever a new request comes up that's outside of your pre-set contractual work.
PLAN FOR ISSUES AND CREATE MORE UPSELL OPPORTUNITY
Comprehensive service histories: Get more context on specific customer or device maintenance and better predict future needs.
Management dashboards: view technician timesheets, schedules, and workloads to help better manage and assign tasks.
---
DO MORE BILLABLE WORK -
AND LESS PAPERWORK!
Request free 30 days trial!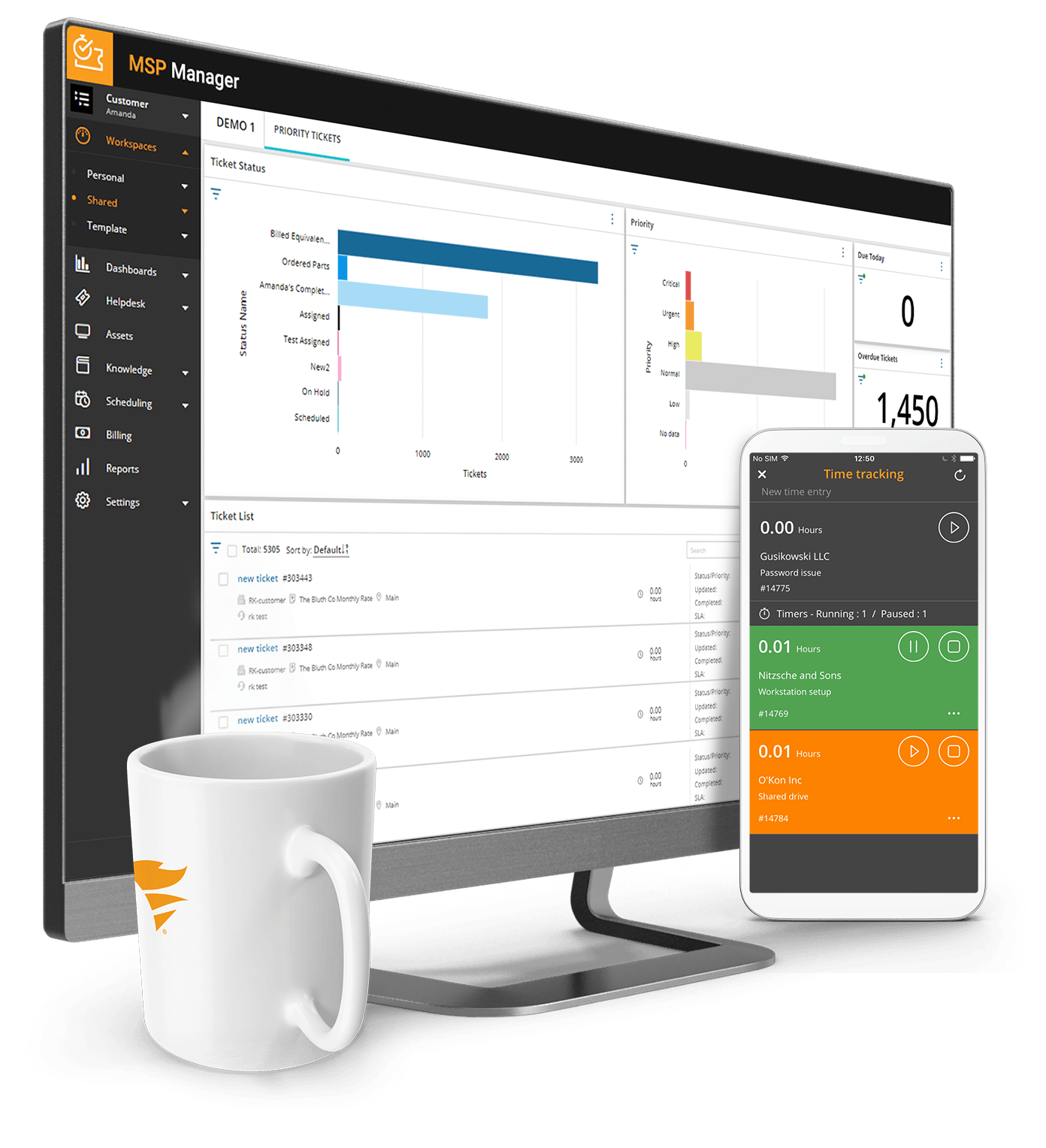 N-able MSP Manager: Product Overview with Stephen Creedon
Datum objave: 11.06.2021 13:29:31