N-able DNS Filtering
Give Your Customers the Power to Stay Connected and Productive.
Protect Your Customers from Online Security Threats with Advanced DNS Technology.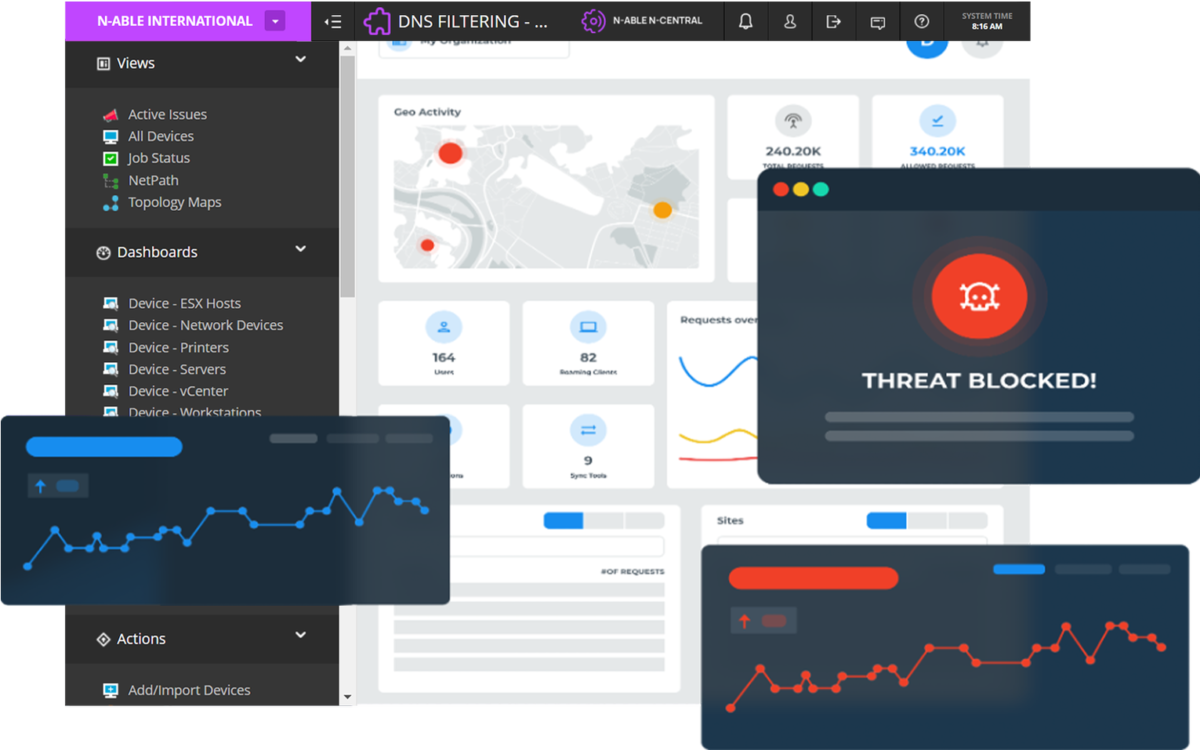 N-able DNS Filtering is designed to protect your customers from online security threats and inappropriate content using a combination of security heuristics, real-time threat recognition, and domain categorization—powered by an artificial intelligence scanning engine.
BENEFITS:
Block dangerous websites in real-time using AI and machine learning
Provide DNS protection on a fast, reliable network
Onboard and manage your customers from one central dashboard
Gain insight into customer websites and off-network devices with detailed reports
Tightened security to help prevent zero-day threats
Boost productivity with fast, simplified customer onboarding
Get a global view of your customers' sites and statistics
Maintain user productivity with smart policies
Benefit from a highly redundant and reliable anycast network
---
"I absolutely love DNSFilter. Domain lookup, category blocking, category insights, query log, user security, it is all spot on and great for a business of any size."
STEVEN G, IT DIRECTOR, G2
WHAT OTHER MSP's SAY
"DNSFilter is a critical part of IT security defense in depth. I like the DNS agent capabilities best. Being able to protect laptop assets even when they are not on the main corporate network fills a critical hole in security protection."
RICK S, CTO, G2
"DNS Filter is acquiring and implementing new technologies and we see it in the filtering. It's just so much smarter."
DOUG ANDERSON, SR. DIRECTOR OF ITS, LA METRO
---
Show lower risk levels with mitigation reports
The ability to see usage patterns and top destinations across networks allows techs to spot risks faster. Demonstrate your value to customers using hard numbers in easy-to-create threat protection reports.
Protect users from advanced web threats
As new malicious websites and URLs crop up daily, legacy web content filtering tools can't keep up and may let through zero-day threats, ransomware, and fileless malware attacks.
---
FEATURES
SMART THREAT PROTECTION
Help prevent access to unwanted and malicious content on and off your network.
Block phishing, viruses, and other cyberthreats, including zero day attacks, with smart identification of malicious domains—typically 80 hours faster than many other solutions.
Gain enhanced visibility, control, and reporting of devices with roaming clients.
ARTIFICIAL INTELIGENCE
Identify malicious websites in real time using AI categorization.
Block previously uncategorized phishing threats with imagery-based anti-phishing tactics.
Help prevent zero day threats using advanced scanning technology.
Mitigate botnet, malicious cryptomining, and malware threats via threat feed augmentation.
GLOBAL ANYCAST NETWORK
Benefit from a highly redundant and reliable anycast network: 50 data centers worldwide and multiple nodes per center.
Help ensure high network performance with one of the largest number of data centers in the industry.
---
PROTECT YOURSELF FROM ONLINE
SECURITY THREATS!
Request free 30 days trial!