Virtual Machine Backup and Replication for Hyper-V and VMware
Rely on a high performance Virtual Backup and Replication solution.
Altaro VM Backup is an award-winning virtual machine backup and replication solution for Hyper-V and VMware environments. Designed for IT departments, IT resellers and consultants and Managed Service Providers (MSPs), the solution provides robust, streamlined, enterprise-level functionality. It is characterised by ease of use, speed, affordability and superior 24/7 support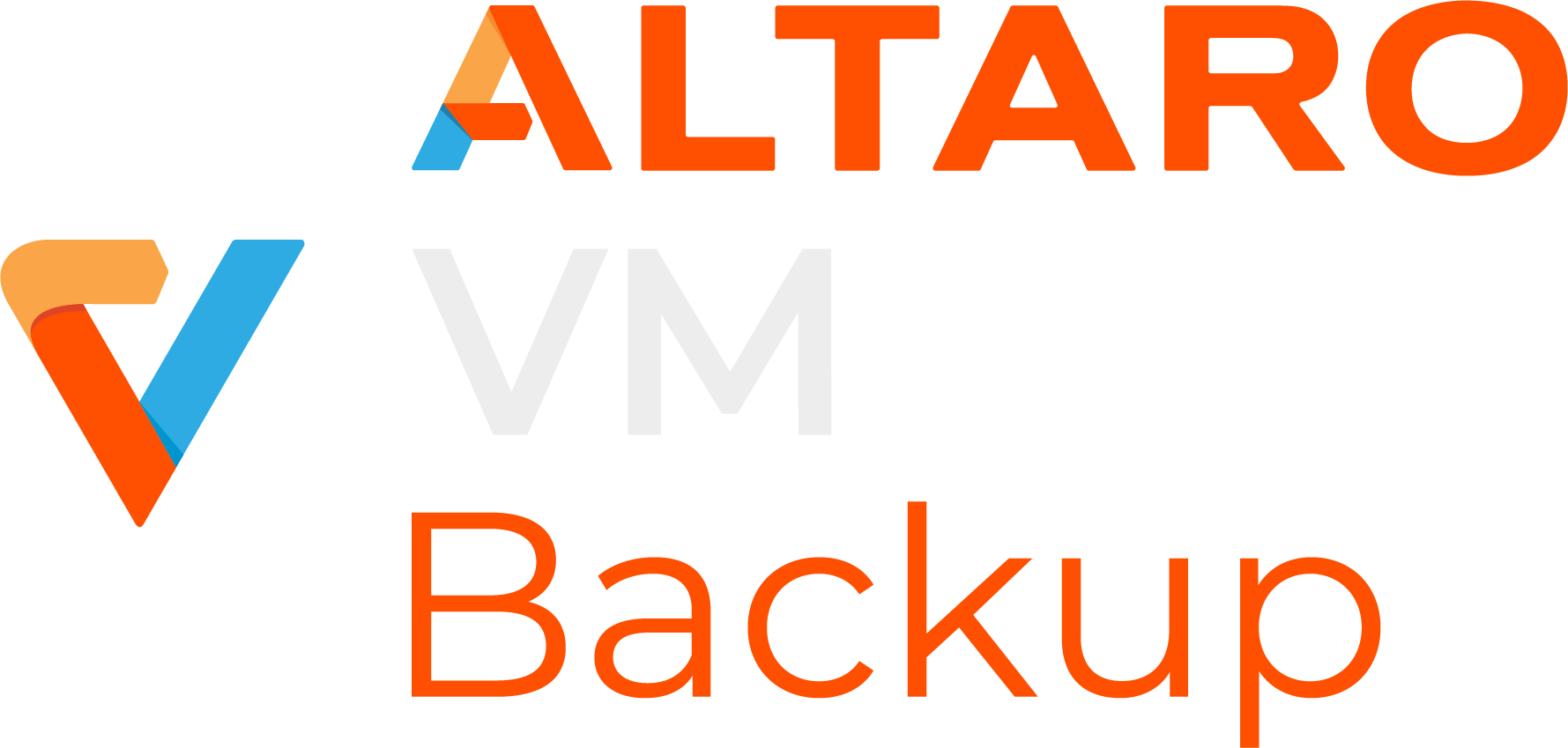 Altaro gets you up and running
in less than 15 minutes!
Up and running quickly, without the need for complex configurations!
With Altaro VM Backup, you can install and run your first virtual machine (VM) backup in less than 15 minutes. Get up and running quickly, without the need for complex configuration or software dependencies. Altaro VM Backup is designed to give you the power you need, without the hassle and steep learning curve.
BENEFITS:
Fast, fuss-free performance - Hassle-free and fast virtual machine backup in less than 15 minutes
Best storage savings in the industry - Lower storage requirements by over 65% with our Augmented Inline Deduplication technology
Minimal RPO and RTO - Significantly reduce Recovery Point Objective (RPO) and Recovery Time Objective (RTO) through replication and CDP
Outstanding 24/7 support - Fast, effective and human tech expertise with live chat response in seconds and call response of <30 seconds
Unbeatable value - Affordable pricing for enterprise quality; and it's up to you whether you purchase a perpetual license or an annual subscription
---
Great product, great support, great cost per value. Really no complaints. I have used much more expensive software with much less success. I have restored multiple servers, multiple times and never had an issue. An absolute buy for any server administrator. Backing up and restoring servers. Reliable every time.
WHAT ALTARO CUSTOMERS SAY
Great Product, we are rolling out to all of our customers. So easy to manage and reliable backups! With great compression and off-site functionality. Provides a great DR solution with the off-site backup options and provides great benefits with storage with up to 75% compression! There is nothing to dislike about this it's great!
Excellent product. Not one issue with it. Extremely reliable and dependable. Easy to navigate. Need a solid backup software? Look no further. This took the stress out of my daily responsibilities. You set it up and it just goes. Have not had one failed backup since we integrated it into our system. "Old Faithful" has a new face.... ☺
---
ALTARO VM BACKUP FEATURES:
---
VMware Troubleshooting guide
An essential handbook for administrators in small to mid-market businesses. You can find the gide along with other Altaro VM Backup educational resources HERE.

Over 40,000 satisfied users.

Licensed per Host, not per socet.

Outstanding customer support.
---
Best deduplication in the industry - Augmented Inline Deduplication
Altaro VM Backup with Augmented Inline Deduplication drastically reduces your storage requirements for your backup repository. When compared to other vendors, it is the best deduplication in the industry creating the smallest backup size. Our deduplication runs across all backup jobs, you don't need to group virtual machines together (no use of post processing). Requiring the least amount of backup space is only one of the benefits;Augmented Inline Deduplication also improves backup and restore speed.
---
WAN-Optimized Replication
Replication enables users to be back up and running in minimal time should disaster strike. Optimized for WANs, Altaro's Replication enables system administrators to replicate ongoing changes on their virtual machines (VMs) to a remote site and to seamlessly continue working from the replicated VMs should something go wrong with the live VMs, such as damage due to severe weather conditions, flooding, ransomware, viruses, server crashes and so on. Replication permits the user to make an ongoing copy of their virtual machines (VMs) and to access that copy with immediacy should anything go wrong with the live VMs. This dramatically reduces the recovery time objective (RTO).
---
LICENSING
Altaro offers different purchasing options to meet your needs. You can choose whether to purchase a perpetual license (with a renewable Software Maintenance Agreement) or an annual subscription – whatever works best for you! The main difference is that perpetual licenses are licensed per host and subscription licenses per number of VMs. You can find a detailed pricing calculator HERE.
GET IN TOUCH WITH US!
You wish to buy a new license
You wish to renew your SMA
You need help upgrading to the latest version
You need help with licensing
Your'e unsure whether you're eligible for an upgrade
You need help with the trial
You need technical support
Altaro VM Backup Overview
Datum objave: 01.03.2022 12:00:46
Altaro 8.1 verzija
Datum objave: 01.02.2019 08:49:27
Altaro CMC
Datum objave: 30.04.2018 13:22:03
Altaro v7 - napredne funkcije
Datum objave: 30.04.2018 12:11:08
Altaro VM Backup v7 - Instalacija i osnovne postavke
Datum objave: 30.04.2018 12:08:33